After a decade of slow but steady progress, the parity between sexes came to a halt in 2017. A total of 68% of the world's gender gap is now closed, with the reversal driven by declining gender equality in the workplace and political representation.
Time to Parity?
The findings in this year's report, show that, overall, 68% of the global gender gap has been closed. This is a slight deterioration on 2016 and 2015, when the gap was 68.3% and 68.1%, respectively. At this rate of progress, it will take another century to close the overall global gender gap, compared to 83 years last year. The most challenging gender gaps remain in the economic and health spheres. At the current rate of change, it will take another 217 years to close the economic gender gap.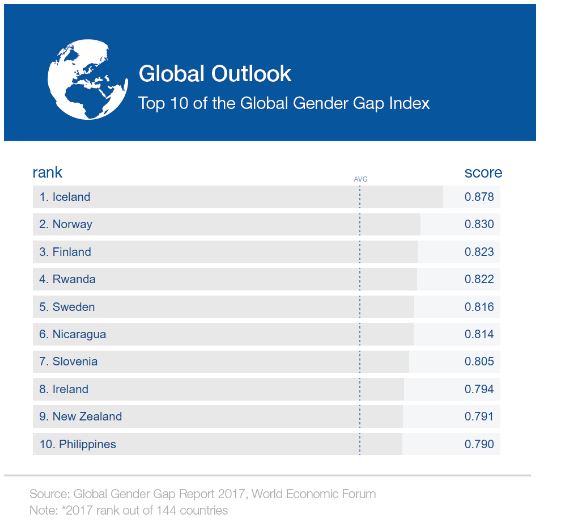 At the top of the Global Gender Gap Index is Iceland. Having closed nearly 88% of its gap, it has been the world's most gender-equal country for nine years. The gap between Iceland and the second-placed country, Norway, actually widens as both Norway and third-placed Finland saw their gaps widen this year. The top five is completed by Rwanda (4) and Sweden (5). The next two countries in the Index, Nicaragua (6) and Slovenia (7), also achieve symbolic milestones this year closing 80% of their gaps for the first time. Ireland (8), New Zealand (9) and Philippines (10) make up the top 10.
Western Europe remains the highest-performing region in the Index with an average remaining gender gap of 25%. The region is home to four of the global top five countries in the Index – Iceland (1), Norway (2), Finland (3) and Sweden (5) – highlighting the continued progress of the Nordic countries in closing their overall gender gaps. At the bottom ranks of the region are Greece (78), Italy (82), Cyprus (92) and Malta (93).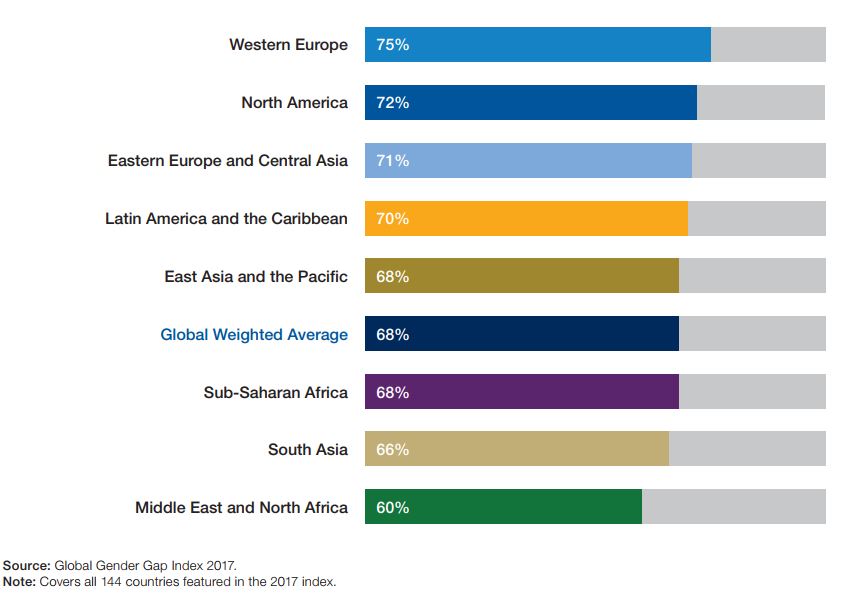 Moldova in top 30 countries
From 144 countries, Moldova ranks 30th place and 6th among the countries of Eastern Europe and Central Asia.Moldova continues its strong multi-year progress on the number of female legislators, senior officials and managers, and also fully closes its Health and Survival gender gap. In 2006 Moldova ranked 17th out of 115 countries. The domain with the lowest score is the political representation of women.
More details on the methodology and profile of all countries can be found here: http://www3.weforum.org/docs/WEF_GGGR_2017.pdf